Does it surprise you that I chose to copycat another leopard look? It was unintentional, really. But then I realized it. Ha.
Glasses: (prescription) Michael Kors, Sweater: forever 21, Blouse: thrifted, Jeans: f21, Boots: Restricted Gallop Riding boot DSW.
I'm thinking of making this a monthly series, what do you think? Do you enjoy doing it every Friday? Or would it be easier if you only had to worry about it once a month? Let me know!
Don't forget to add this button to your copycat post: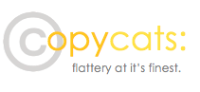 <div align="center"><a href="http://frills4thrills.blogspot.com/p/copy-cats.html" title="Frills for Thrills"><img src="http://i55.photobucket.com/albums/g146/sarah_christine122/Picture6-1.png" alt="Frills for Thrills" style="border:none;" /></a></div>