I found this blog called
Tres Chic Mama
and it is seriously the best source of pregnancy street style pictures I've found. So obviously this month's inspiration comes from there:
Dress: f21, Necklace: BCF
I seriously look like a tent whenever I wear something loose these days, but loose is just comfy and when I'm not looking in the mirror I actually feel less huge.
If you are participating today (the link-up will be open through the next few days if you're late) please include this button in your post by copying and pasting this code in your html:
Let's see your looks!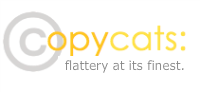 <div align="center"><a href="http://frills4thrills.blogspot.com/p/copy-cats.html" title="FrillsforThrills CopyCats"><img src="http://i55.photobucket.com/albums/g146/sarah_christine122/Picture6-1-2.png" alt="FrillsforThrills CopyCats" style="border:none;" /></a></div>