I would first like to say a big thank you for all your encouraging and supportive comments and emails yesterday. They meant so much to me and although I'm not glad that there are others going through some mild depression, it makes me feel less alone in mine : )
Now for this week's CopyCat look!
I pinned this a while ago and ended up finding a similar sweater at Urban Outfitters, so I thought I'd give this look a try...
Sweater: Urban Outfitters, Leggings: YesStyle, Boots: Kohls, Belt: Thrifted.
Now that I see the pictures side-by-side, I realize I look nothing like the girl above. And our sweaters, although both red, look nothing alike and I like hers way better.
Dizzang!!
I am loving the cozy casual look though!
Let's see your looks!
Remember to add the button below to your post if you are participating.
And remember that I will be choosing one of you to feature over the weekend!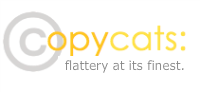 <div align="center"><a href="http://frills4thrills.blogspot.com/p/copy-cats.html" title="FrillsforThrills CopyCats"><img src="http://i55.photobucket.com/albums/g146/sarah_christine122/Picture6-1-2.png" alt="FrillsforThrills CopyCats" style="border:none;" /></a></div>