So, I didn't think I was gonna end up copying this look, but then I did and then I realized I shouldn't have. I always hate wearing my hair up and shorts just aren't looking cute on me these days.
But alas, here for your viewing pleasure, Miss Me in clothes that are all too small for me!
Earrings: f21, Sweater: Thrifted, Shirt: H&M, Shorts: Old Navy, Sandals: Madden Girl, Purse: Vintage D&B
Also, I have ordered a new (better) camera, so you can look forward to prettier pictures here soon!
Now show me your looks:
And please add this button to your post if you are participating: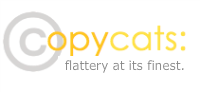 <div align="center"><a href="http://frills4thrills.blogspot.com/p/copy-cats.html" title="FrillsforThrills CopyCats"><img src="http://i55.photobucket.com/albums/g146/sarah_christine122/Picture6-1-2.png" alt="FrillsforThrills CopyCats" style="border:none;" /></a></div>