It's CopyCat Friday today which means we copy a look we've archived on Pinterest or other places and get away with it!
To be honest, I had a hard time figuring out what look to copy as my wardrobe is pretty minimal these days. The seasons are changing and I'm getting huge, which limits me to things that stretch...
BUT, I found this darling lady who is also pregnant and thought to myself "I have all that."
So, that's how I ended up with the look I did this week!
Necklace: BCF, Dress: H&M, Blazer: Thrifted, Shoes: Urban Outfitters
If you are participating this week, link up below and add this button to your post: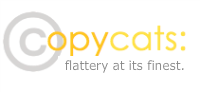 <div align="center"><a href="http://frills4thrills.blogspot.com/p/copy-cats.html" title="FrillsforThrills CopyCats"><img src="http://i55.photobucket.com/albums/g146/sarah_christine122/Picture6-1-2.png" alt="FrillsforThrills CopyCats" style="border:none;" /></a></div>