Yay! Yay! YAY!!! It's CopyCat Friiiiday!!
The day of the month where we all copy a look we've seen on someone else!
This month I am copying the adorable Kourtney Kardashian.
This is not my first time copying a Kardashian, and
last time
I copied one it was Kim and I wore this same camel colored blazer!
What can I say? We're all Armenian and they have great style!
I don't know why I keep choosing looks with hair up. I seriously NEVER wear my hair up and so I'm confused as to why I decided to do it again. Oh wells.
The good news is that when we were walking over to take these pictures Ian said, "You look like Kim Kardashian from behind. That seems like something she would wear."
Although I'm copying her sister Kourtney this time, I took that as a compliment because that is exactly what I was going for... obviously!
Blazer: thrifted, Tank: H&M, Boots: DSW, Purse: Charlotte Russe, Sunnies: Valentino.
So there you have it!
I must say, I was worried I would go into labor and not be able to host the link-up this week, but alas, Greyer is still super comfs inside me and it could still be a while...
If you are linking up this week, please include this button somewhere on your post and link up below: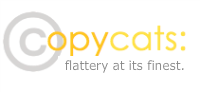 <div align="center"><a href="http://frills4thrills.blogspot.com/p/copy-cats.html" title="FrillsforThrills CopyCats"><img src="http://i55.photobucket.com/albums/g146/sarah_christine122/Picture6-1-2.png" alt="FrillsforThrills CopyCats" style="border:none;" /></a></div>