Peoples,
Good news! I am feeling much more than a pulse today.
Unfortunately, I wasn't able to pose for a copycat look so I decided to feature
Erin
's look instead.
She is such a loyal (and talented!) copycatter so I am thrilled that she agreed to let me feature her.
Check out her blog
here
and her look below:
Copycats Friday
is one of my favorite days of the whole month! It's when I try to branch out of my usual style and try something different. This month I'm channeling the ever-stylish and sometimes a little out-there Blair from
Atlantic-Pacific
.
Her double polka dot look has been on my mind ever since I found myself in possession of both a polka dot sweater and a polka dot blouse. I love the juxtaposition of the two different background colors and polka dot sizes in the original look. I also love her shoes but, sadly, I didn't have any strappy closed toe heels to wear today.
I even searched my neighborhood for some stairs so I could copy her pose. This is the best I could do.
All told, I LOVE the way this outfit turned out even if it's a bit more casual than I would wear to the office. Still, for a Friday when I have no meetings and the boss is out? I'll break out the double polka dots.
Would you wear either of our outfits?

Thanks Erin!
Link up below if you are participating this week and be sure to add the button below to your post!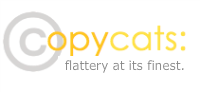 <div align="center"><a href="http://frills4thrills.blogspot.com/p/copy-cats.html" title="FrillsforThrills CopyCats"><img src="http://i55.photobucket.com/albums/g146/sarah_christine122/Picture6-1-2.png" alt="FrillsforThrills CopyCats" style="border:none;" /></a></div>