*the next linkup will be happening on March 29th!
I've been working on developing a series that would be fun for everyone to participate in and if you've seen any of my copycat looks, you know where I'm going with this : )
Those of you that have a Pinterest account constantly pin inspirational images of projects, recipes, or items you'd like to try. And most of us have some sort of fashion related board. But do you ever actually try out any of those outfits? This is your motivation and a place to share! It's also a great way to promote your blog and discover others'!
What is a copycat?
Someone who finds inspiration in the way another person styled an outfit (often with pieces one already owns) and then copies it and posts pictures on the internet!
Why copycat? Documenting your daily outfits can be quite exhausting sometimes. Especially when you feel like you've already worn everything you own or run out of ideas on how to restyle a piece. Well, style blogger or not, most of us have a Pinterest board or computer file with cute outfits we'd love to wear.
These inspirational archives are especially nifty when I'm in a rush or in a rut...
Am I the only one that actually copies these clever fashionistas I've pinned?
Not anymore! I am inviting you to join me on

the last Friday of every month

to copycat someone else's look (make sure you give credit where credit is due).
How to be a copycat:
Pin or save pictures of outfits you want to copy. Then, participate in the Copycat series on the last Friday by blogging the picture you've
pinned, along with a picture (or 5 or 9) of you copycatting the outfit and linking back here to Frills.
Include this button at the bottom of each copycat post: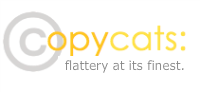 <div align="center"><a href="http://frills4thrills.blogspot.com/p/copy-cats.html" title="FrillsforThrills CopyCats"><img src="http://i55.photobucket.com/albums/g146/sarah_christine122/Picture6-1-2.png" alt="FrillsforThrills CopyCats" style="border:none;" /></a></div>
Join the Community: